---
---
Existen muchas formas para dar consejos en inglés. En esta lección te explicaremos las 4 formas más comunes con ejemplos en inglés y español. Todas las formas que te mostraremos son populares y se pueden usar sin ningún problema en cualquier situación. Este tema también se conoce como Giving advice in English.
Comencemos:
1. Puedes usar la expresión: Should/Should't. Esta expresión significa deber. Should es un verbo modal que siempre va seguido de otro verbo base. Esta es una de las formas más usadas para dar consejos.
You should talk to your dad about what you said. / Deberías hablar con tu padre sobre lo que dijiste.
You should take notes in class. / Deberías tomar notas en clase.
You shouldn't smoke because you are sick. / No deberías fumar porque estás enfermo.
You shouldn't talk to your mom like that. / No deberías hablarle a tu madre de esa forma.
2. Podemos utilizar los imperativos para dar consejos. Es importante recordar que los imperativos son formas bastante directas y enfáticas de dar consejos. Úsalos con personas muy cercanas a ti como amigos y familia.
Remember to study for the exam. / Recuerda estudiar para el examen.
Clean your bedroom before you leave. / Limpia tu dormitorio antes de irte.
Don't go out tonight because you have a cold. / No salgas esta noche porque tienes un resfriado.
Don't talk to me like that please. / No me hables así por favor.
3. Para dar consejos más suaves podemos usar la estructura del segundo condicional. "If I were you". Tiene varias traducciones al español. Puede significar:
Si fuera tú, Yo que tú, Yo en tu lugar.
If I were you, I would break up with that guy right away. / Si yo fuera tú, rompería con ese chico de inmediato.
If I were you, I would go to the doctor. / Yo en tu lugar, iría al doctor.
If I were you, I wouldn't laugh at other people. / Si yo fuera tú, no me burlaría-reiría de otras personas.
If I were you, I wouldn't sell my car. It's beautiful. / Yo que tú, no vendería mi auto. Es hermoso.
4. Puedes usar preguntas para dar consejos de forma menos directa: Why don't you…? y How about…?.
a) Why don't you…?: ¿Por qué tú no…?
Why don't you take a taxi home? / ¿Por qué no tomas un taxi a casa?
Why don't you do the homework now? / ¿Por qué no haces la tarea?
b) How about…? ¿Qué tal si…? / ¿Qué te parece…?
How about going out for lunch? / ¿Qué te parece salir a almorzar?
How about going to the gym tomorrow? / ¿Qué tal si vamos al gimnasio mañana?
✓ Continúa aprendiendo: tenemos lecciones específicas sobre algunas de las estructuras que te hemos recomendamos para dar consejos. Te sugerimos que las visites: 1. Modal Should y Shouldn't, 2. Segundo condicional con ejemplos y 3. Imperativos en inglés.
Cómo pedir consejos en inglés
Si alguien tiene un problema o quiere saber la opinión de otra persona sobre algún tema, lo puede hacer con la siguientes preguntas:
What should I do?: ¿Qué debo hacer?
What would you do if you were me?: ¿Qué harías si fueras yo?
What do you think I should do?: ¿Qué crees que debería hacer?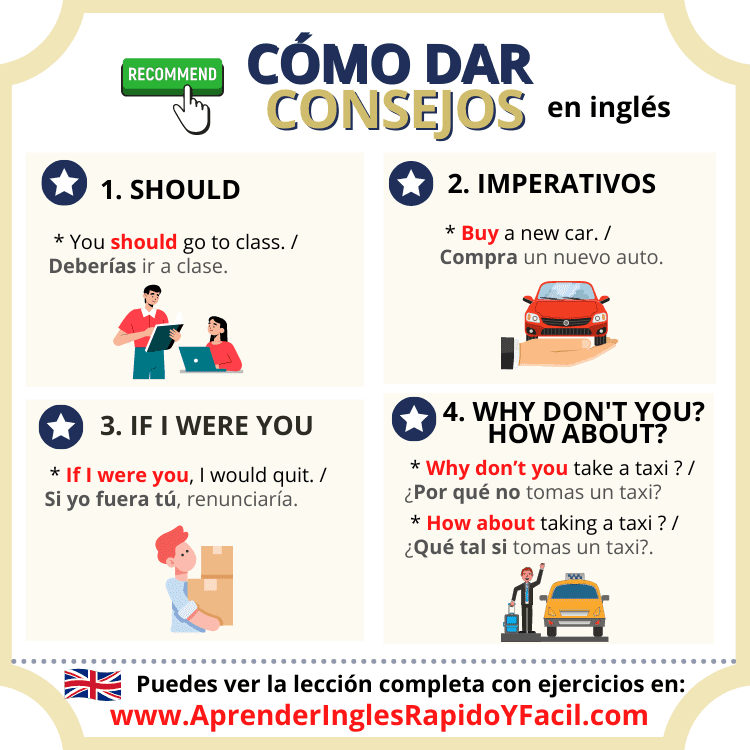 Ejercicio
Completa con la opción correcta.
Cómo dar consejos en inglés