---
---
En esta lección aprenderás los conectores en inglés más comunes por medio de ejemplos claros con traducciones al español y ejercicios.
¿Qué es un conector en inglés?
Un conector es una palabra (Ejemplo, and: y) o conjunto de palabras (Ejemplo, As a result: Como resultado) que su usa para unir frases u oraciones. La función de estas palabras es que al usarlas de manera correcta nos ayudan a organizar mejor lo que decimos y lo que escribimos en inglés.
Lista de conectores en inglés con ejemplos
Vamos a dividir esta lista según la funcionalidad que cumplen al unir frases.
Conectores de Opinión
Algunos conectores indican que se va a expresar una opinión:
I think: Pienso
I think she is the best candidate for the job /

Pienso que ella es la mejor candidata para el trabajo
I believe: Creo
I believe I will get promoted soon /

Creo que seré promovido (ascendido) pronto
In my opinion: En mi opinión
In my opinion, the movie we watched last night was boring /

En mi opinión, la película que vimos anoche fue aburrida
Conectores de Adición
Las siguientes palabras se usan para agregar una idea o significado adicional:
In addition: Además
I have good grades. In addition, I am part of the student committee /

Tengo buenas calificaciones. Además, soy parte del comité estudiantil.
Furthermore: Además o Es más
The movie didn't get good reviews. Furthermore, it didn't do well at the box office /

La película no recibió buenas críticas. Además, no le fue bien en la taquilla.
And: y
My friend Marco is friendly and outgoing /

Mi amigo Marco es amigable y extrovertido
Also: Además o También
Yesterday I met Janice. She has a new job. I also met Ralph. He has long hair now /

Ayer me encontré a Janice. Tiene un trabajo nuevo. También me encontré a Ralph. Ahora tiene cabello largo.
–> Te sugerimos esta lección para ampliar el tema de cómo dar opiniones en inglés.
–> Aprende qué son y como funcionan los condicionales mixtos.
Conectores de Causa y Efecto
Estas palabras indican las causas o las consecuencias de un hecho:
Therefore: Por lo tanto
I was at work. Therefore, I could not have committed the crime /

Estaba en el trabajo. Por lo tanto, no pude haber cometido el crimen.
As a result: Como consecuencia o Como resultado
They didn't hand in the paper. As a result, they failed the class /

Ellos no entregaron el artículo. Como resultado, perdieron la asignatura o materia.
Since: Dado que o Ya que
Since you are sick, you do not have to come today /

Ya que estás enfermo, no tienes que venir hoy
So: Así, De esta manera o Así que
I arrived early, so I had a cup of coffee before the meeting /

Llegué temprano, así que tomé una taza de café antes de la reunión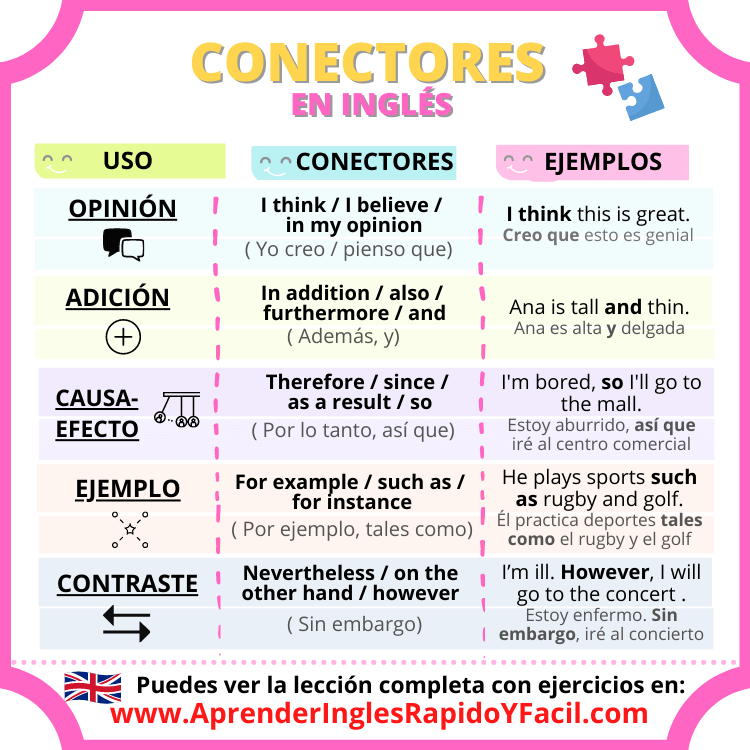 Conectores de ejemplo
Estas palabras usualmente se usan cuando queremos ejemplificar o ilustrar una idea:
For example: Por ejemplo
You can bring any drink to the party. For example: soda, beer or wine /

Puedes traer cualquier bebida a la fiesta. Por ejemplo: refrescos, cerveza o vino.
For instance: Por ejemplo
Some great football players have been born in Argentina, for instance, Maradona and Messi. /

Algunos grandes jugadores de fútbol han nacido en Argentina, por ejemplo, Maradona y Messi.
Such as: Tales como
That restaurant serves international dishes such as lasagna, paella and burritos /

Ese restaurante sirve platos internacionales tales como lasaña, paella y burritos
Conectores de contraste
Estas expresiones muestran contraste o diferencia con otra idea
Nevertheless: Sin embargo
Beethoven was deaf. Nevertheless, he composed great symphonies /

Beethoven era sordo. Sin embargo, compuso grandes sinfonías
However: De todas maneras o De todos modos
I'm ill. However, I will go to the concert /

Estoy enfermo. De todos modos, iré al concierto
On the other hand: Por otro lado
The weather will be nice and sunny in Houston. On the other hand, it will be rainy and cold in Atlanta /

El clima será agradable y soleado en Houston. Por otro lado, será lluvioso y frío en Atlanta
Ejercicio de conectores
En este cuestionario pondrás a prueba tu conocimiento sobre los conectores en inglés. Lee la instrucción y escoge la opción correcta.