---
---
En esta entrada vas a aprender las 51 expresiones en inglés más populares. Este tema se conoce en inglés como Expressions in English, English Idioms o Idiomatic Expressions. Al final de la lección, podrás practicar estas expresiones con un ejercicio.
¿Qué es una expresión?
Antes de iniciar, es indispensable que entendamos qué es una expresión. Las expresiones son frases comunes en los idiomas. Por ejemplo, en algunos países de habla española la frase "dejar plantado" significa "no asistir a una cita con otra persona".
Estas frases son de uso diario y las personas que están aprendiendo un idioma deben conocer las frases más populares de ese idioma para poder entender y comunicarse de manera fluida. – Una manera de aprender expresiones es a través de música y películas. Te invitamos a visitar las lecciones donde te enseñamos cómo aprender inglés con películas y canciones.
Es importante hablar sobre el significado de estas frases. Algunas de estas frases se pueden entender fácilmente ya que si conocemos el significado de las palabras, podemos hacer una traducción literal. Por ejemplo, la expresión:
Give me a break: dame un descanso/respiro
Por otro lado, algunas frases no pueden entenderse con la simple traducción de las palabras que la componen. Por ejemplo:
It's not my cup of tea: no me gusta
Si traducimos literalmente la expresión, obtenemos: "no es mi taza de té". Sin embargo, esa combinación de palabras se usa en inglés para dar a entender que algo no nos gusta.
En consecuencia, para aprender las expresiones en inglés de forma correcta debes enfocarte más en el significado que en la traducción literal de las palabras al español.
Lista de expresiones en inglés
Hemos recopilado las 51 expresiones más usuales en lengua inglesa con ejemplos para que se entiendan sin mucho esfuerzo. Te recomendamos leerlas y posteriormente hacer el ejercicio para comprobar el entendimiento de este tema al final de la lección.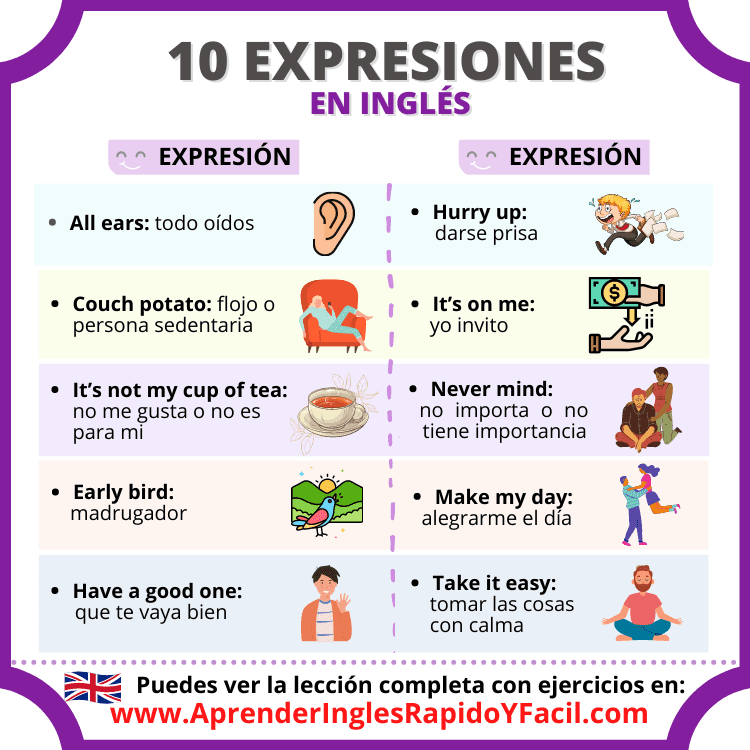 A breeze: muy fácil, pan comido o muy sencillo
› Nowadays, sending electronic messages is a breeze.
› Hoy en día, enviar mensajes electrónicos es muy sencillo.
All day long: todo el día
› I had to work all day long last Sunday.
› Tuve que trabajar todo el día el domingo pasado.
All ears: todo oídos
› I know you have something to tell me about the car accident. Come on, I'm all ears.
› Sé que tienes algo que decirme sobre el accidente automovilístico. Vamos, soy todo oídos.
All of a sudden:​ de repente
› The cat jumped off the chair all of a sudden.
› El gato saltó de la silla de repente.
Back in the day: en mis tiempos o en aquellos tiempos
› Back in the day, we did not have cell phones. We only had landlines.
› En mis tiempos, no teníamos teléfonos celulares. Solo teníamos teléfonos fijos.
By the book: según las reglas o a rajatabla
› Teachers want their students to do everything by the book.
› Los maestros quieren que sus alumnos hagan todo según las reglas.
Call it a day: terminemos por hoy o ha sido todo por hoy
› We have been painting this wall for 6 hours. I'm tired. Let's call it a day.
› Hemos estado pintando esta pared durante 6 horas. Estoy cansado. Ha sido todo por hoy.
Come on!: ¡vamos!, ¡dale! o ¡venga!
› We can still win the game. Come on!
› Todavía podemos ganar el juego. ¡Vamos!
Couch potato: flojo o persona sedentaria (que sólo ve televisión)
› I hate practicing sports. I prefer to watch reality shows and soap operas. I think I'm becoming a couch potato.
› Odio practicar deportes. Prefiero ver Reality Shows y telenovelas. Creo que me estoy volviendo un sedentario.
It's not my cup of tea: no me gusta o no es para mi
› Reading science fiction is definitely not my cup of tea.
› Leer ciencia ficción definitivamente no es para mí.
Cut it out: basta ya o para lo que estás haciendo
› Cut it out! You have been calling me names for more than an hour.
› ¡Basta ya! Usted me ha estado insultando por más de una hora.
Cut to the chase: ir al grano
› I'm going to cut to the chase. Your CV is the best one we have received so far.
› Voy a ir al grano. Su hoja de vida – curriculum vitae- es la mejor que hemos recibido hasta ahora.
Day in, day out:​ día tras día o todos los santos días
› You deserve the promotion because you have been working hard for this company day in, day out.
› Te mereces el ascenso porque has estado trabajando duro para esta empresa día tras día.
Early bird: madrugador
› My brother is an early bird. He loves arriving at the office before everyone else.
› Mi hermano es un madrugador. Le encanta llegar a la oficina antes que los demás.
Enough is enough: ya es suficiente o ya está bien
› Enough is enough! I'm tired of cleaning up your mess every single day.
› ¡Ya está bien! Estoy cansado de limpiar tu desorden todos los días.
Face the music:​ hacerse cargo o afrontar las consecuencias
› If you don't hand in your final paper, you'll have to face the music and take this subject again next year.
› Si no entrega su trabajo final, tendrá que afrontar las consecuencias y tomar esta asignatura de nuevo el próximo año.
Give me a break: dame un respiro o dame un descanso
A: Would you like to go to the movies tonight? / ¿Te gustaría ir al cine esta noche?
B: Give me a break! We've gone to the movies five times this week. / ¡Dame un respiro! Hemos ido a cine cinco veces esta semana.
Go Dutch: pagar a medias o pagar 50% 50%
› Today I'm not going to let you pay the bill again. We should go Dutch.
› Hoy no voy a dejar que pagues la cuenta nuevamente. Deberíamos ir a medias.
Gotcha: entiendo (lo que quieres decir)
A: Don't take the subway late, it is dangerous. / No tomes el metro tarde, es peligroso.
B: Gotcha. / Entiendo.
Hang in there: aguanta o resiste
› I know you are having tons of problems at college. Hang in there! Everything will be better soon.
› Sé que tienes muchos problemas en la universidad. ¡Resiste! Todo mejorará pronto.
Have a good one: que te vaya bien
A: I have to go back to work. / Tengo que volver a trabajar.
B: Bye. Have a good one. / Adiós. Que te vaya bien.
Help yourself: sírvete
› If you want to have another slice of pizza, go ahead and help yourself.
› Si deseas comer otra porción de pizza, adelante, sírvete.
Hurry up: darse prisa
› Mark, please hurry up! We have to walk for 2 more hours before we reach the camp.
› Mark, por favor date prisa! Tenemos que caminar durante 2 horas más antes de llegar al campamento.
I hear you: veo o te entiendo
› Yesterday, you told me about how difficult it was to pass the entrance exam at the university. I hear you, it took me years to pass it.
› Ayer me dijiste lo difícil que era aprobar el examen de ingreso a la universidad. Te entiendo, me tomó años pasarlo.
I mean: ​quiero decir
› I did not like the movie. I mean, it was not bad, but I expected it to be a lot better.
› No me gustó la película. Quiero decir, no estuvo mal, pero esperaba que fuera mucho mejor.
In cold blood: a sangre fría
› The attack to the town was carried out in cold blood.
› El ataque al pueblo se llevó a cabo a sangre fría.
In hot water: en problemas
› I am in hot water at work because I yelled at my boss.
› Estoy en problemas en el trabajo porque le grité a mi jefe.
It's my treat: yo invito
› Do not worry about the bill. It is my treat because today is your birthday.
› No te preocupes por la cuenta. Yo invito porque hoy es tu cumpleaños.
It's on me: yo invito
› Hey! Tonight's dinner is on me because I want to celebrate my promotion.
› ¡Oigan! Yo invito a la cena de esta noche porque quiero celebrar mi ascenso.
Keep the change: quédese con el cambio
› The taxi fare is 15 dollars, but I'll give you 20. Keep the change.
› La tarifa del taxi es de 15 dólares, pero le daré 20. Quédese con el cambio.
Make ends meet: llegar a fin de mes a nivel económico o ganar lo suficiente para vivir
› My sister never makes ends meet; I always have to lend her some money.
› Mi hermana nunca llega a fin de mes; siempre tengo que prestarle algo de dinero.
Make someone's day: alegrarle el día a alguien
› Ralph's call made my day. We hadn't talked for a little more than 4 years.
› La llamada de Ralph me alegró el día. No habíamos hablado por un poco más de 4 años.
Mind your own business: ocúpate de tus propios asuntos
› Don't tell me what to do with my free time dad, mind your own business.
› No me digas qué hacer con mi tiempo libre papá, ocúpate de tus propios asuntos.
Mum's the word: es un secreto o ni una palabra
› I lost my wedding ring, but he doesn't know; mum's the word.
› Perdí mi anillo de bodas, pero él no lo sabe; ¡ni una palabra!
Never mind: no importa o no tiene importancia
› This was not the right cheese for the recipe, but never mind.
› Este no era el queso adecuado para la receta, pero no importa.
On cloud nine: en una nube, estar en la gloria o sentirse en el cielo
› Every time I think of my wonderful honeymoon in Hawaii, I feel like I'm on cloud nine.
› Cada vez que pienso en mi maravillosa luna de miel en Hawái, me siento en el cielo.
On top of the world: en la cima del mundo o tocar el cielo con las manos
› When Mario won the rugby championship for the first time, he felt on top of the world.
› Cuando Mario ganó el campeonato de rugby por primera vez, se sintió en la cima del mundo.
Once in a blue moon: muy rara vez
› I go hiking to the mountain once in a blue moon because it's quite far.
› Voy de excursión a la montaña muy rara vez porque es bastante lejos.
Out of the blue: inesperadamente o de la nada
› Rafaela told me out of the blue that she was pregnant again.
› Rafaela me dijo inesperadamente que estaba embarazada otra vez.
Rain cats and dogs: diluviar o llover mucho
› It has been raining cats and dogs for three days, which has caused severals floods.
› Ha estado lloviendo mucho durante tres días, lo que ha causado muchas inundaciones.
Ring a bell: sonar familiar
› I think I have tried the dish you are describing; the ingredients ring a bell.
› Creo que he probado el plato que estás describiendo; los ingredientes me suenan familiar.
Rule of thumb: regla de oro o regla general
› The rule of thumb in the store is that everyone has to smile at customers.
› La regla general en la tienda es que todos deben sonreír a los clientes.
Sleep on it: consultar con la almohada
› I don't really know what to do about the job offer. I'll sleep on it and then I'll decide.
› Realmente no sé qué hacer con la oferta de trabajo. Consultaré con la almohada y luego decidiré.
Sleep tight: que sueñes con los angelitos o que duermas bien
› Good night kids, sleep tight. Tomorrow will be a great day at the fair.
› Buenas noches niños, que duerman bien. Mañana será un gran día en la feria.
Spill the beans:​ soltar la lengua
› It's a surprise retirement party. Don't spill the beans about it.
› Es una fiesta sorpresa de jubilación. No sueltes la lengua sobre esto.
Stab somebody in the back: apuñalar a alguien por la espalda
› In spite of our solid partnership, he stabbed me in the back and charged me with fraud.
› A pesar de nuestra sólida sociedad, me apuñaló por la espalda y me acusó de fraude.
Take a wild guess: adivinar o calcular a ojo
› You have 30 seconds to tell me the answer, come on, take a wild guess.
› Tienes 30 segundos para decirme la respuesta, vamos, adivina.
Take it easy: tomar las cosas con calma
› There's nothing you can do right now to help your nephew; he is in good hands. Take it easy.
› No hay nada que puedas hacer en este momento para ayudar a tu sobrino; él está en buenas manos. Tómalo con calma.
The other side of the coin: la otra cara de la moneda
› We've analyzed only the benefits, but we also have to take into account the other side of the coin.
› Hemos analizado solo los beneficios, pero también debemos tener en cuenta el otro lado de la moneda.
Time's up: se acabó el tiempo
› Ok everyone, time's up. Stop writing and hand in your papers.
› Ok, todos, se acabó el tiempo. Dejen de escribir y entreguen sus trabajos.
Up in arms: indignado
› The citizens are up in arms due to the reforms so the demonstrations will continue.
› Los ciudadanos están indignados debido a las reformas, por lo que las manifestaciones continuarán.
Ejercicio sobre las expresiones más usuales del inglés
Ejercicio de expresiones en inglés
✓ Continúa aprendiendo inglés: tenemos cuatro lecciones relacionadas con este tema que te recomendamos visitar: 1. Time expressions, 2. Frases con el verbo SAY, 3. Expressions with the verb TO BE y 4. Frases con Well.